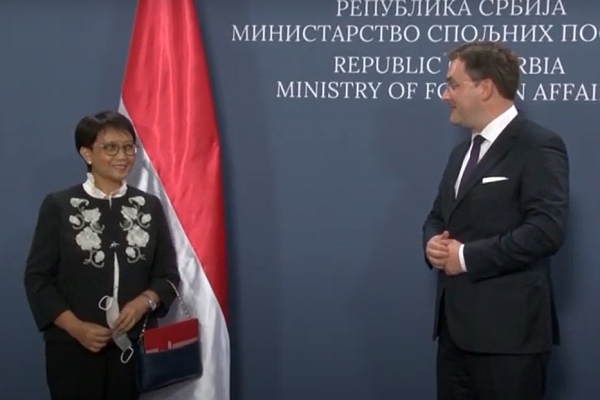 Belgrade, 10 October 2021
Minister of Foreign Affairs Nikola Selakovic and Minister of Foreign Affairs of Indonesia Retno Marsudi assessed today that political relations between the two countries are at an extremely high level, but that they are not accompanied by economic cooperation noting that the focus in the future will be on strengthening that cooperation.
At a joint press conference, Selakovic said that an agreement had been reached on a return visit, i.e., his visit to Jakarta, in three months, and that after political consultations between the two ministries, they would specifically discuss deepening economic cooperation.
He stated that the plans are to hold the fifth round of talks between the two ministries in a period of two months, but also to finalize and prepare an agreement on extradition.
Political relations are exceptional, but economic cooperation does not follow it, and we must make maximum efforts to harmonize that cooperation with political relations, Selakovic emphasised.
Marsudi said that an agreement has been reached to prepare an agreement on mutual recognition of the coronavirus vaccination certificate.
We have no open political issues and our focus will be on how to strengthen economic cooperation, finalize the agreement on agricultural cooperation and bring even more investments here, Marsudi said, adding that for that reason she is happy to attend a business forum on the sidelines of the Non-Aligned Movement Summit.
Selakovic and Marsudi also signed memoranda of cooperation between the two ministries on building diplomatic capacities, as well as between Serbian and Indonesian universities in the field of business and innovation incubators.